Ready for a cozy fall season? Discover these 16 fall must-haves for empaths, all created to touch your soul in a warm and loving way!
Estimated reading time: 22 minutes
Hey there, lovely readers! We want to be completely transparent with you. Some of the links in this blog are affiliate links, which means if you click on them and make a purchase, we may earn a small commission at no additional cost to you. 😊
We only recommend products and services we genuinely believe in and have personally used or researched. Your support through these links helps us keep bringing you valuable content, so thank you for being amazing!
Ever felt more attuned to the world around you, sensing emotions deeply? Do you often find yourself overwhelmed by stimuli others dismiss? That's the essence of being a highly sensitive person or an empath. It's as if we have a hyper-sensitive antenna, catching everything from gentle wind whispers to intense emotions of others.
Now, as the seasons shift and the air gets crisper, self-care becomes more vital than ever. It's not just about pumpkin-spiced everything (though we do love a good latte 😉). It's about caring for our delicate souls, enveloping ourselves in warmth, and connecting deeply with autumn's beauty.
So, with our unique sensitivities in mind, we've lovingly curated a list of 16 fall essentials. Whether you're an empath, deeply sensitive, or new to self-care, this list is your autumn comfort blanket. Ready to journey with us? Let's dive in!
#1 A Sip of Sunshine: Avocado Leaf Tea
As we enter this transformative season, remember that nourishing our bodies also nourishes our souls. And hey, we're not just talking about emotional and spiritual nourishment here (though that's super important too!). 🍂
Real talk: Our bodies crave rich nutrients, especially as the temperatures drop and we snuggle up a bit more. Sugary treats and hearty meals are tempting. However, a balance of indulgence and nutrition truly enhances our inner glow. Envision cradling a drink that not only kindles warmth but resonates with your empathic spirit's desire for purity, sustainability, and nature's touch. 🌿
Enter the wonder of Avocado Leaf Tea by Avocado Tea Co. This tea is a fresh twist in herbal brews. It's crafted from all-natural avocado leaves. And here's the magical part: these leaves are handpicked and upcycled from avocado groves nestled in sunny Southern California. It's like a little sip of sunshine with an eco-friendly twist. By choosing this tea, you're not just nourishing yourself; you're also giving a nod to Mother Earth. And the best part? The tea boasts exceptional taste and potent natural antioxidants. Every sip is a delightful fusion of health and flavor. 🥑🍵
Feeling intrigued? We thought you might be! For our lovely readers diving into this autumn adventure with us, Avocado Tea Co. is offering a special treat.
Use the code Welcome10 for a sweet 10% off your first purchase. So, cozy up, dear ones, and let's sip our way to a heartwarming, eco-conscious fall together!

#2 Affirm with Mindful Messages' 'Positive Affirmation Deck'
As fall's golden leaves carpet the earth, it's evident that our minds, mirroring the seasons, need their own nurturing and care. Especially for the empathic, our senses are finely attuned to the world's vibrations. The soft whispers of our inner thoughts have a profound impact. There's undeniable beauty in introspection. Grounding our minds in positivity can be the nudge we need amidst chilly breezes.
Enter the Mindful Messages – Positive Affirmation Deck. This isn't your run-of-the-mill affirmation set. Oh, no! Each of its 52 cards is a delicate blend of original artistry and deeply resonating messages, specifically crafted to uplift, inspire, and echo within our souls. These aren't the generic pep talks of "you've got this!" (although, trust us, you absolutely do!). Instead, each card delves deeper, beckoning you into a world of mindful reflection and self-care.
Over 50,000 decks have already reached grateful souls. With 2200 glowing reviews on Amazon, it's clear these cards resonate with many. Packaged in an adorable gift box, they're the perfect fall treat for yourself or a loved one. As we don scarves and enjoy warm drinks, what better friend than a deck that mirrors the season's beauty and our profound thoughts?

#3 Harvesting Thoughts for Personal Growth in a Personalized Notebook
As fall's captivating colors embrace us, we're drawn to introspect, journeying through our minds and examining our personal evolution. The journey of self-improvement, especially for the empathic heart, is a continuous dance of understanding, evolving, and cherishing every moment. And as the days grow shorter and nights longer, what better way to channel these introspections than onto paper?
Let us introduce you to a perfect companion for this season: this Personalized Notebook. This isn't just a diary. With numerous colors and nine distinct designs, this notebook celebrates individuality and self-expression. At a compact 5″ x 8″ size, it's ideal for capturing thoughts, whether by the fireplace or in a leafy park. Consider it a sanctuary where dreams, musings, and memories blend on 112 elegantly lined pages.
As you navigate your self-discovery this autumn, bear in mind that often, the deepest revelations emerge when pen touches paper. Here's to cherishing every word, every doodle, and every reflection with your very own personalized touch.

#4 Embracing Autumn's Embrace with Warmth and Comfort from Geniani's Heating Pads
Ah, the crisp air of fall! The charm of cold days is undeniable, especially when we're enveloped in cozy scarves and savoring warm, spiced drinks. However, for many of us, especially during that time of the month, the cold can exacerbate the discomfort of cramps. Sensitive souls, deeply attuned to every nuance, crave added warmth and care, especially when we feel a bit down.
Meet your new fall comfort companion: the Geniani Microwaveable Heating Pads for Cramps. This isn't just any heating pad. Designed to fit perfectly over your shoulders, its 8" x 17" size provides relief for neck, back, or even cramps. Here's the fall twist: as it warms you, it emits a soothing lavender aroma, whisking you away to a tranquil autumn field. It's pure relaxation, body and soul.
The convenience? Impeccable. A quick stint in the microwave and voila – up to 20 minutes of soul-soothing heat, right where you need it. Whether at home, at work, or on the move, this plush pad adapts to you, providing both hot and cold relief. And for those adventurous autumn days? Pack it along! Its portable nature ensures you're never without that comforting touch.
So, dear readers, as we journey through the golden tapestry of fall, let's ensure we're nurturing ourselves at every turn, especially during those days that require a bit more warmth and understanding. Your comfort, after all, is just a Geniani away.

#5 Infusing Warmth into Your Autumn Adventures: The OCOOPA Heatcube Magic
Autumn, with its golden hues and gentle breezes, is undeniably poetic. But let's be honest: those enchanting fall moments can sometimes leave our fingers chilled, especially during unexpected outdoor adventures. Oh, the number of times we've wished for a bit of warmth in the palm of our hands while sipping cider under a canopy of orange and red!
Good news, lovely souls! Your wish has been answered by OCOOPA's Heatcube Rechargeable Hand Warmer. We know what you're thinking, "Another hand warmer?" But trust us, the Heatcube isn't just any hand warmer. Picture this: 10 seconds and you're enveloped in a comforting warmth that lasts up to 4 hours. The design is sleek and lightweight, weighing just 79 grams. It's so skin-friendly, it's like having a pocket-sized sun.
Attention to detail? Oh, they've mastered it. Its safety-certified chips and ergonomic buttons showcase the meticulous design. Additionally, the LED flashlight and buzzer alarm highlight the care and passion behind its creation. With fall fashion blossoming, its chic design ensures it's not only functional but also a stylish accessory. Because why should you compromise on style while staying warm?
And because we adore our readers so much, we've got a little gift for you. For those looking to bring this fall warmth magic home, use code [BJATGXK2] for an exclusive 20% off. Let's turn those frosty fingers into cozy handholds, making every autumn moment outside as heartwarming as the one inside.
#6 Sublime Soaks: Merging the Warmth of Fall with Soulful Chakra Healing
When autumn's tender chill graces our lives, many of us yearn for the warm embrace of a luxurious bath. Imagine infusing this tranquil moment with an experience that transcends just physical warmth, connecting the mind, body, and spirit? A bath that's not only a celebration of the season but also a harmonious dance of chakras?
Step into the mystical world with Chakra Healing Bath Bombs with Stones. This isn't your everyday soak; it's a journey into the very essence of you. As the bath bomb effervesces, it surrounds you in aromatic bliss. A hidden gemstone emerges, ready to balance one of your seven chakras. Each bath reveals a stone like Aventurine, Tiger's Eye, or Lapis Lazuli. Dive into their unique energies and healing properties, detailed in the included pamphlet.
Committed to Earth and its beings, these bath bombs are eco-friendly, cruelty-free, and devoid of sulfates and parabens. A true Zen yoga gift, it's ideal for all ages and genders who value self-care and chakra wisdom. Whether you're an experienced yogi or just starting out, these bath bombs provide relaxation. They also foster a deeper connection to your inner self.
So, as the leaves outside paint the ground gold, let your bath paint your soul with balanced energy. Gift it to a friend passionate about yoga, or better yet, gift yourself this fall. After all, what's more emblematic of self-love than a bath that heals both body and soul?

#7 Elevating Self-Care in the Dimming Embrace of Autumn with TheraBox
As the days lead to earlier evenings, the winds of fall sing mellow tunes. It's not only the trees that transform; our souls do too. The dimming light can sometimes mirror our inner feelings, making self-care all the more paramount. During these moments, we must illuminate our inner world with warmth and nourishment. What better method than a monthly treasure chest delivered to your doorstep?
Introducing TheraBox — the #1 Self Care Wellness Box, a delightful serenade to the empathic soul. Each month, receive 8 premium wellness items hand-picked for you. Boasting a combined value of over $200, it's a steal at just $34.99. This isn't just a box; it's an experience. From mission-led and cruelty-free brands, every product in TheraBox aligns with nature's purity, echoing the wholesome values of fall.
TheraBox's essence is its unique "Happiness Boosting Activity", approved by therapists. This offers therapeutic self-care rituals delivered right to your doorstep. Whether it's a poignant journal entry, a rejuvenating guided meditation, or a therapeutic art piece. Each activity kindles the heart's inner glow.
Celebrate the fall by honoring your well-being. Let TheraBox be your monthly guide, filling your days with mindful moments and sumptuous skincare. Revel in enchanting essential oils and more. With TheraBox, even as the world outside grows darker, your inner world will always shimmer with the golden hues of self-love and care.

#8 Embracing Autumn's Joys, Footstep by Footstep with Foot Soaks
The hues of gold and amber envelop our world as fall dances into our lives. Yet, with each poetic gust of wind, with each whispering leaf, the soul's journey inward intensifies. Amidst this ethereal transition, the empathic heart understands grounding's subtlety. Yet, how often do we neglect our being's foundation – our feet? In the serenade of self-care, remember the pillars that carry our essence, dreams, and journey's steps.
As the days transform, these foot soaks capture the essence of the season, caressing your feet with unique scents.

#9 Protect Your Feet with WaySoft's Sheepskin Slippers
There's an old adage that says, "Care for your feet, for they carry the weight of your world." As autumn unfolds and we nurture our feet with gentle soaks, it's essential to shield them from the nip in the air. Fall is a season of contrasts – the rustling leaves and the silent introspection, the brisk winds and the snug corners. It's in this duality that we find the spirit's yearning for both adventure and sanctuary.
Enter the embrace of WaySoft's Hard Bottom Sheepskin Slippers. Each slipper, meticulously crafted from genuine 100% New Zealand sheepskin, is a symphony of luxury, authenticity, and warmth. Imagine wrapping your feet in these velvety slippers, feeling the plush cushioning and luxurious comfort. It's like a lingering fall sunset for your feet. These versatile slippers are perfect whether you're cozy by the fireplace or dashing outside for the mail. And the spectrum of colors and sizes beckons to diverse souls, ensuring that there's a perfect fit awaiting every foot.
But beyond the comfort, it's the ethos of WaySoft that truly resonates. As a proud U.S. brand, they champion the idea of affordable luxury. WaySoft believes that the extravagance of genuine sheepskin should be accessible, which is why, even though their manufacturing echoes the processes of big-name brands, their slippers are presented at a fraction of the cost.
So, as the season unfolds and you tread upon the paths of introspection and joy, ensure that each step is wrapped in the sheer luxury that your feet deserve. WaySoft is not just a choice; it's an experience, a journey of tactile opulence that promises to cradle your feet in autumn's embrace.

#10 When Nights Whisper Restlessness, Answer with Catching ZZZ's from NV Superfoods
The cradle of fall's embrace sometimes brings with it a symphony of restless nights. As the leaves rustle and twilight casts longer shadows, many of us find ourselves yearning for a serene night's sleep. The empathic souls among us, deeply attuned to the changing seasons, often find it challenging to drift into peaceful slumbers. But what if the secrets to soothing sleep were nestled in nature's very essence?
Enter NV Superfoods – CatchingZZZ's. Crafted with passion and precision, this roll-on is a symphony of pure essential oils, from calming Lavender to rejuvenating Peppermint, all combining to lull you into restful tranquility. Every drop resonates with NV Superfoods' commitment to purity, with no synthetic additives, and a deep reverence for our furry friends as they stand firmly cruelty-free. Whether you're traveling or simply seeking solace in your nightly ritual, this on-the-go blend promises to be a gentle sentinel, ensuring peaceful dreams.
NV Superfoods' journey with essential oils is more than just a product; it's a transformative experience. Through education, inspiration, and unparalleled quality, they invite you to reimagine your nightly routine, intertwining it with the therapeutic wonders of nature. Allow the harmonious blend of CatchingZZZ's to be your muse, guiding you towards immersive experiences that kindle tranquility and rest. Dive deep into our curated content, exploring aromatic blends and discovering the profound impact of essential oils on your well-being. As the days grow colder and nights longer, let NV Superfoods be the bridge to the restful nights your soul yearns for.

#11 Cozy Up In KIRUNDO's Knit Cardigan This Fall Season
Ah, fall. A season of golden hues and whispered warmth. Each morning greets with a crisp embrace, conjuring visions of hot beverages and the need for the perfect sweater to mirror autumn's charm. Discover KIRUNDO's Knit Cardigan. Made from 100% Acrylic, it captures the fall's essence. Its open design, combined with a high-quality button-down feature, offers both style and adaptability. What sets it apart is its textured cable knit, ensuring warmth beyond measure.
Its pockets meld function with flair. The color palette, from the pristine White Fall to the deep Wine Red, caters to every preference. With long sleeves and a versatile form, KIRUNDO's cardigan epitomizes casual sophistication. As fall unveils its colors, let KIRUNDO be your sartorial tribute. Embrace the cardigan's warmth and step out, embodying autumn's allure.

#12 Create an Autumnal Home Environment with Fall Wreaths from Larksilk
Fall is more than a season; it's a feeling, a gentle reminder of the passage of time and the beauty that change brings. As the world outside is awash in amber and gold, our souls instinctively seek solace, warmth, and the familiar embrace of home. Creating a cozy environment becomes not just a desire but a need, as the nights grow longer and the winds a tad chillier. An inviting space becomes a haven, where memories are forged over hot cocoa, soft blankets, and heartwarming conversations.
Enter the enchanting world of Larksilk's Fall Wreaths. Every wreath, an artful assembly of faux foliage, exudes the very essence of fall, making your home's entrance a welcoming prelude to the warmth inside. The beauty of these wreaths lies not just in their lifelike appearance but in the heart and soul behind their creation. Proudly designed in the US by a women-owned company, Larksilk ensures each piece carries a touch of love, dedication, and authenticity. The resilience of faux ensures that the magic remains undimmed, year after year, allowing you to revisit cherished memories and create new ones.
So, as the fall season approaches, and you look to infuse your home with its spirit, let a Larksilk wreath be the emblem on your door. A symbol of welcome, warmth, and the timeless beauty of fall, it's more than just decor; it's a piece of heart, a touch of soul, and a promise of cozy gatherings.

#13 Light Up Your Autumn Days With Pigmint Arome Candles
The embrace of fall beckons us not just outdoors but into the heart of our homes. As russet leaves flutter and the air carries a crisp promise of snug gatherings, the ambiance we curate indoors becomes a reflection of the season's warmth and charm. Continuing our journey to foster a cozy home environment, one's senses play a pivotal role, particularly the powerful and evocative sense of smell. As the duskiness of twilight meets the golden glow of lamplights, what could be more inviting than the gentle, aromatic embrace of a candle?
Enter the world of Pigmint Arome, where every flicker tells a story, and every scent is a journey. With its deep-rooted dedication to design, quality, and fragrance, Pigmint Arome offers not just candles but experiences. Crafted with luxurious precision, these soy wax candles, with their 12% perfume oil, transport you to realms of aromatic gardens and cozy retreats. Imagine being wrapped in the opulent warmth of 'Sequoia Smoke,' where juniper trees meet smoldering campfires, capturing the very essence of crisp autumn air.
Every candle promises a clean, long-lasting burn, drawing from the environmentally friendly blend of soy and coconut wax. The aesthetic appeal is undeniable, but it's the ethos behind the brand that stands out—vegan, non-toxic, and sustainable. Housed in elegant glass jars, each candle is also a statement in sustainability, ready for reuse and recycling.
As the perfect accompaniment for any fall evening, whether it's setting a romantic mood, aiding in relaxation post a day's work, or during meditation sessions, Pigmint Arome is your haven in a jar. And for those looking to gift an essence of serenity, these candles come beautifully packaged, waiting to make memories.
To our cherished readers, immerse yourself in this olfactory ode to autumn and enjoy an exclusive touch of luxury with the promo code LUXURY10. Embrace fall, one scent at a time.

#14 Affirmation Reminders in Your Home From Jack Meets Kate
As the golden hues of fall settle in, crafting an intimate, soulful corner within our homes becomes not just a design desire but an emotional necessity. The nip in the air and the rustling leaves outside remind us of the beauty of transitions, and there's an innate longing to reflect this change internally, within the sanctity of our walls. The aesthetics of our space aren't merely visual delights; they have the profound power to influence our state of mind, nourishing our empathic souls during these seasonal shifts.
Step into the vibrant universe of Jake Meets Kate. Born in the heart of Los Angeles, this brand is more than just decor; it's a celebration of Gen Z's dynamic spirit and individuality. Their artistic affirmation posters, steeped in a vivid blend of colors and words of positivity, promise to be the very heartbeats of your fall-themed space. Imagine sipping on a pumpkin-spiced latte, the cozy warmth of a throw wrapped around you, while the affirmations from Jake Meets Kate silently whisper tales of inspiration, creativity, and self-love. A perfect blend of aesthetics and motivation, these posters don't just adorn walls; they converse with souls.
So, as you embark on curating a cozy fall retreat, let Jake Meets Kate's affirmation aesthetic wall decor be your muse. Let every shade and sentiment remind you of the magic that happens when art meets affirmation. Let the walls of your home echo with positivity, making every autumnal moment an ode to self-love and artistic expression. Embrace the fall season, one affirmation at a time.

#15 Get Crafty With Embroidery!
Amidst the kaleidoscope of colors and feelings that autumn brings, sensitive souls often find themselves yearning for a tranquil corner, where they can channel their emotions and musings into tangible art. Embracing creativity during these transitionary times can be both therapeutic and invigorating. The very act of creating, of pouring one's heart into a piece of art, can resonate deeply with the poetic ebb and flow of the fall season. For those empathic spirits, the magic often lies in the details, in the meticulous stitch that binds not just the fabric, but also the fragments of their imagination.
Enter the realm of the Houston Imports Embroidery Kit – designed keeping in mind both the seasoned embroiderer and the budding enthusiast. What sets this kit apart is its innovative inclusion of an embroidery hoop stand. No longer do your hands need to juggle between holding the hoop and creating art; the stand gracefully takes on that task, allowing your fingers the freedom to dance across the fabric. Complementing this is the palette of 24 high-quality embroidery threads, each hue thoughtfully curated, each thread whispering tales of autumnal beauty. Packaged exquisitely, every element of this kit speaks of dedication to quality and the love for the craft.
For those seeking the perfect gift as the leaves turn golden, the Houston Imports Embroidery Kit emerges as a front-runner. Whether it's for a seasoned artist who appreciates the nuances of a good embroidery stand or a newbie keen on exploring this intricate art form, this kit is an ode to the joys of creation. So, as the cool breezes of fall usher in a season of introspection and creativity, let the Houston Imports Embroidery Kit be your muse, guiding your sensitive soul through a journey of color, craft, and connection.

#16 Welcome The Joy of Christmas In Your Home With SD Candles
As autumn embraces us with its golden charm, many sensitive souls find their hearts softly beating to the tunes of another season lurking around the corner – Christmas. It's not just about the day itself, but the joyous anticipation, the memories it evokes, the warmth it promises. There's a secret delight in letting one's spirit tiptoe into the festive mood, even as the leaves fall and the world prepares for winter's embrace.
Enter the magic of SD Candle's "Fresh Cut Christmas Tree Scented Candle." More than just a scent, this candle is a bridge between two enchanting seasons. As you light it, the aroma of a freshly cut Christmas tree fills your space, making fall evenings come alive with the pre-joys of Christmas. Every flicker tells a tale, of past holiday moments and the excitement of the ones to come. But this isn't just any candle. Staying true to SD Candle's mantra of "Fun and Fragrance", this delightful creation embodies both the playful anticipation of Christmas and the deep, sensory pleasures of the fall.
With the quality that SD Candle champions, each burn promises an experience – an olfactory dance of nostalgia and hope, mingling the essence of autumnal coziness with the heartwarming promise of Christmas. The whimsical designs and lively quotes, characteristic of SD Candle, make it not just a fragrant addition but also a visual delight, echoing the sentiments of empathic souls eagerly awaiting the Yuletide spirit.
So, as the fall deepens and your heart seeks those early Christmas vibes, let the "Fresh Cut Christmas Tree Scented Candle" be your companion. Let it light up your space, infuse your moments with joy, and serenade your soul with the sweet anticipation of the festive season that lies ahead. With SD Candle, you're not just embracing a season but celebrating the magical journey of the heart, from the rustling of fall leaves to the twinkling of Christmas lights. 🍁🎄🔥

Happy Fall Season!
In the tender embrace of fall, the empathic soul finds solace, warmth, and a quiet anticipation for the festivities that lie ahead. From the gentle swish of a cardigan to the comforting glow of scented candles, the season offers a plethora of sensory delights. The rich tapestry of autumn is not just seen in the golden leaves but felt in the cozy home environments we craft, the embroidered artworks we create, and the early Christmas dreams we kindle. As we transition from fall to winter, let's cherish the products that resonate with our spirit, uplift our spaces, and ignite our senses. Here's to a season where every moment is an ode to beauty, creativity, and the deep emotions that connect us to the world around. 🍁🕯🍂🎄🖼🔥
Save It For Later!
Make sure to save this article for later, so you can easily find all your fall favorites: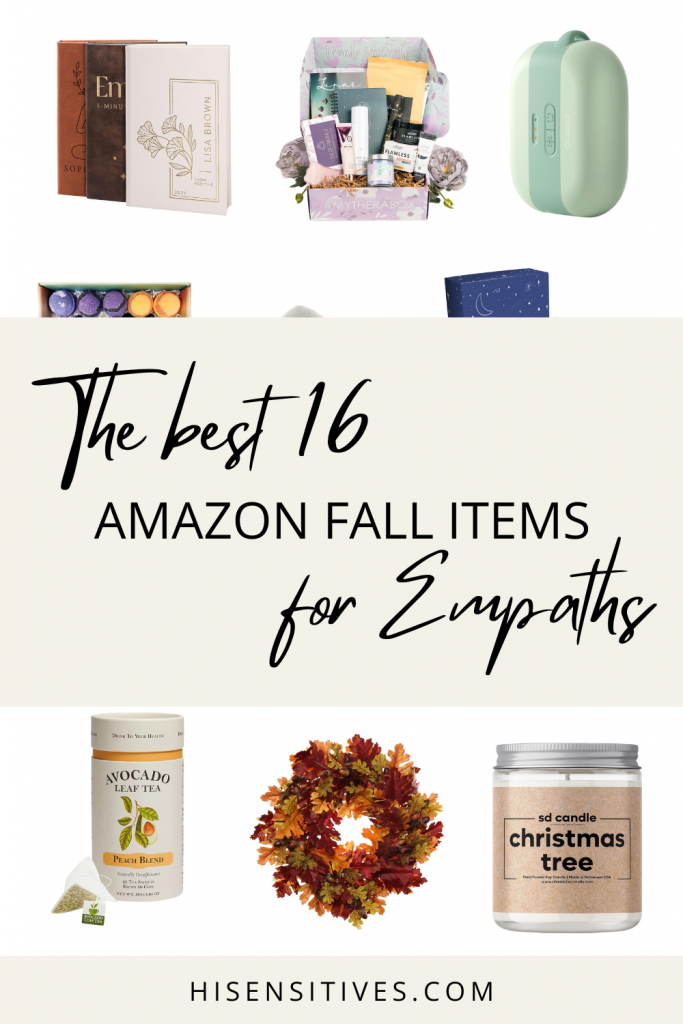 Disclaimer: In this article, we collaborated with AI while writing articles, meaning that we used it as a personal assistant to provide valuable information to our readers. The personal touch through stories and personal examples and the editing of the article have been performed by the author.
You May Also Enjoy Reading These Articles