For highly sensitive people, autumn is a relaxing time to focus more on themselves. Here are seven cozy self-care tips for fall.
Estimated reading time: 8 minutes
Fall time brings joy to many as the seasons begin to change. For highly sensitive people, autumn can be a relaxing time to indulge in oneself.
To focus more on yourself, here are seven cozy self-care activities for the fall time.
1. Self Care Fall Journaling
Most people begin their days on fall mornings getting ready for work or school. The summer has ended, and new responsibilities to live a functional and productive life are quickly approaching. To start off your fall morning in a nice and relaxing way, journaling can be beneficial for you.
Self-care is doing things for yourself that make you feel good, and it does not have to be tedious this fall season. Think about this past week, month or year so far. You can write about how far you've come in your goals and what you have achieved. Reflecting on your experiences can provide an overall peace into your fall self-care routine.
Notably, the fall weather consists of misty mornings, color-changing leaves, and cool air. It's now time to whip out that fluffy sweater and your favorite cozy blanket. Waking up to a journal prompt for a fall self-care challenge when the weather is nice is a nice, slow change of pace.
Additionally, journaling for five minutes about the things you are grateful for can leave you warm and cozy on the inside. Opening up and allowing yourself to be vulnerable allows you to practice self-care without stress or pressure. So set those intentions, and give yourself the time to better your person.
For instance, try the popular self-care journal 'No worries'! It helps you to calm anxiety, relieve stress, and practice positive thinking each day!
2. Self Care Decorating For The Fall Season
A feel-good autumn activity that most people typically enjoy participating in is decorating a space with fall decor. The oranges, reds, and yellows are warm in nature and signify the changing of seasons. That warmth tends to spread into the atmosphere with candles, fall leaves, Halloween decor, and more.
Looking for things to decorate, but don't want to be overwhelmed? Perhaps begin with a smaller space like a reading nook or your bedroom. This activity is meant to be something fun that you can enjoy by yourself. Also, feel free to go shopping for decor with people you care about for added self-fulfillment.
The fall season usually comes with a cooler climate making you just want to cuddle up next to pumpkins and the smell of cinnamon. Take the time for self-appreciation and relax for some seasonal self-care.
To feel most comfortable and happy in the space you're in, create an environment that you are proud of. In your free time, you can search Pinterest for aesthetic inspiration and save ideas to organized boards.
This is a self-care tip for highly sensitive people to reduce anxiety but also can help someone feel productive in their actions. Moreover, this change in environment is a way for you to be creative and in control. So you might want to consider decorating to bring a little extra joy into the fall season.
Here Are Some Of Our Favorite Fall Decorations
3. Getting Pumpkin Spice for Self-Care During Fall!
Self-care during the fall is what you make of it. It can be changing around your life, or simply going to go pick up the newest pumpkin spice drink from your favorite coffee shop. Who said things had to be complicated for it to be self-care?
This autumn self-care advice will probably be the simplest way to put a smile on your face. Pumpkin spice is a global fall signature to add in any and everything you love to eat or drink. For instance, some recommendations include pumpkin spice bread, lattes, or cookies.
You could choose to experiment and try to discover your personal fall favorite. Once you taste the cinnamon blend, there truly is no going back. The cozy fall vibes begin with a warm drink and something pumpkin.
4. Try Baking Some Fall Self Care Treats
Tired of all that pumpkin spice? You can try to take a break from the same repetitive taste with any other kind of baked good.
Alternatively, baking is an activity that requires a significant amount of time but has an even more satisfying payoff. Instead of thinking unpleasant thoughts, hyper-focusing on baking can help highly sensitive people cope.
The food itself has its own benefits of taste and satisfaction, but some new menu items that can aid in self-care include your indulgent foods. Of course, anything with chocolate in it, a banana bread loaf, and even muffins or your average cupcakes.
Notably, baking is also an activity that can make you feel pride in your own abilities. This is its own version of self-care providing you with time to enjoy personal space. To become comfortable with yourself and trust the process of self-care.
You may underestimate your cooking skills and still be able to achieve awesome, tasty results. Therefore, decide for one day of the week something new you will try to bake, and believe in yourself. You can create amazing recipes to share with friends and family for all of the fall.
For instance, try these cozy fall recipes:
5. Watching A Halloween Movie Marathon
Granted, your version of self-care is putting your feet up and relaxing. Of course, the Halloween season starts as soon as September 30th is over and done with. You may find yourself wanting to bundle up on the couch and watch your favorite Halloween movie in your coziest pajamas.
The best self-care advice will tell you to be prepared with popcorn and a list of feel-good movies. Maybe on a weekend of no plans, or you can plan to watch a movie every night of October. Which one would you prefer?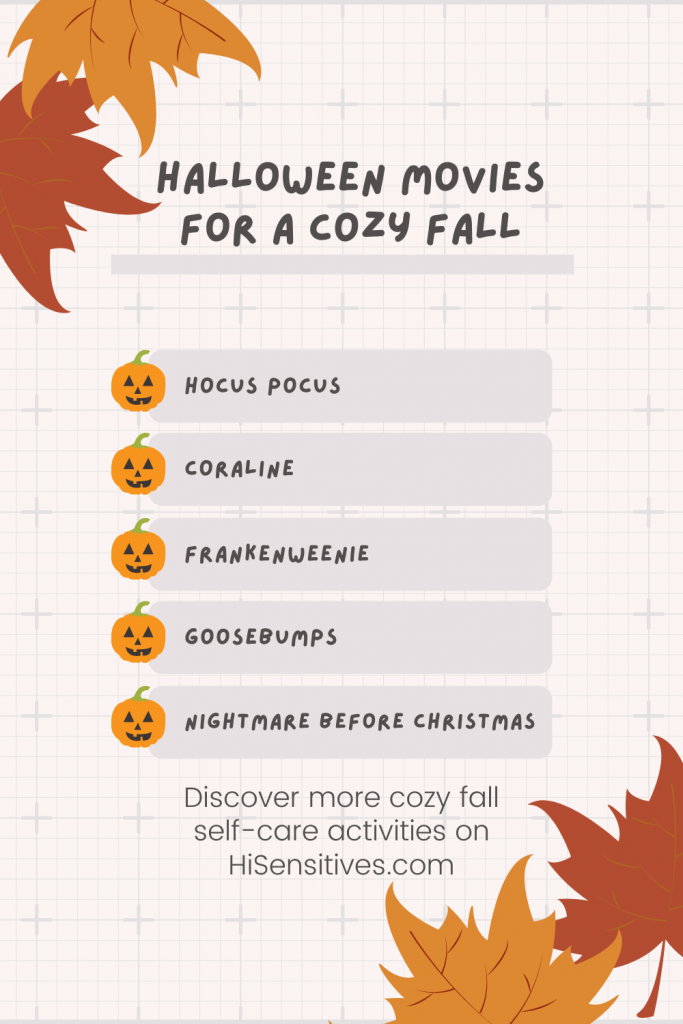 For instance, on many tv net networks, a Halloween movie is played every night with favorites often repeated to fit into anyone's schedule. This way, you can choose to do a little rest and self-care in moderation.
If one movie is enough for you to feel like you're taking care of your mental health this fall season, then choose wisely! Some popular movies on the must-watch list this fall include:
Hocus Pocus
Coraline
Frankenweenie
Goosebumps
Nightmare before Christmas
Hotel Transylvania
Halloweentown
6. Get a Pumpkin for Fall!
It's no surprise that pumpkins show up on our tips for cozy self-care activities this upcoming fall season. They are, admittedly, a staple for the aesthetic and overall feeling of fall.
Pumpkin picking is recommended for those that feel the need to take some time for themselves outside of the house. Enjoy the crisp autumn air, the pumpkin patches, and the minimal human interaction. Get lost in the vines and fall in love with the idea that you can make a new pumpkin friend.
What you plan to do with your pumpkins is completely up to you. You can choose to leave them their gorgeous rust color or you can paint them to add to your fall decor as previously mentioned.
Additionally, pumpkin carving can help you relieve stress and create a cool jack-o-lantern in the process. It might get a little messy, but the journey is what makes this self-care an activity worth the effort.
7. Fall Self Care Outside
In most areas, fall temperatures are not too cold or too hot but just right. Taking advantage of this climate and getting a taste of the fresh air is very important to any self-care plan for fall.
Firstly, you can simply experience life at its simplest by going on a walk in a nearby park or in your very own neighborhood. Get a chance to go offline and run with it- or run if you'd like. Exercising any way during this weather is sure to release the endorphins needed for feeling your best self.
According to the journal for Environmental Research and Public Health, they found that people who often took walks in the park "exhibited significantly lower levels of negative emotions and anxiety." Therefore by taking the time out of your week to walk in nature, you are working towards being a happier person.
After getting to the park, if you decide that physical activity is not in your best interest, you can try reading in the park. Find a grassy area with shade and disappear into another world for a while. When you come out the other side, you will feel lighter in your step and less weighed down with negative emotions.
Throughout this fall season, tips and plans can only get you so far with your self-care ambitions. Therefore, choose for yourself which of these recommendations to try, and focus on you this fall. Lastly, remember that it is okay to feel relaxed during this typically busy time. Self-care is important and fall is a great time to implement new activities into your own personal journey.
What is your favorite fall self-care activity?
You May Also Enjoy Reading These Articles