In this article, I share my experiences with the Embody Me platform, which is a personal growth-, wellness- & yoga platform for growth oriented women.
In order to be able to continue delivering valuable personal growth content for highly sensitive people and empaths, we work with affiliate links in this article. This means that we recommend products that we love and receive a small commission from the seller – at no additional cost to you – when you choose to purchase a product through our link.
Estimated reading time: 8 minutes
I love yoga, spirituality and wellness. When I discovered Embody Me, I was psyched to see that there is a platform where all of these passions are combined in one place!
After testing the platform for a couple of months, I decided to summarize my experience with Embody me in this extensive article. You'll discover what Embody Me is, what the platform looks like and what you can expect from it. Also, I will share my experiences with some of the classes and courses that I attended on this platform.
What Is Embody Me?
Embody Me is a 'Live stream Yoga, Wellness, & Personal Growth Studio' for growth oriented, ambitious women. On this platform you will learn how to embody the best version of yourself.
When I discovered Embody Me, I felt so aligned with their values. As a personal growth junkie and PTSD survivor, I spend a great amount of time on finding ways to improve my wellbeing and thrive in life. After reading tons of self-help books and taking different classes, it is refreshing to discover and experience a platform like Embody Me.
Embody Me offers you the opportunity to discover and embody you best self. Through workshops, live stream classes and online courses, members learn about many different topics.
From learning more about the moon phases, manifestation and goal setting to live stream yoga- & meditation classes – you'll definitely find it on Embody Me!
If you are looking for a place to improve both your physical and mental health, Embody Me definitely is worth your consideration, time and money!
What Does The Platform Look Like?
You may wonder what you can expect from Embody Me. Once you register and log in, you will see this main screen. As you can see, navigation through Embody Me is very clear and straight-forward. Also, the design of the platform is clean and minimalist, which is perfect for highly sensitive people!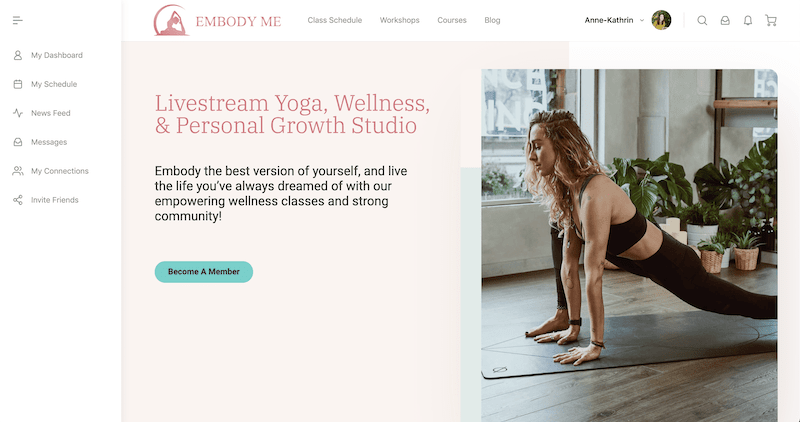 Some of the main features on Embody Me are:
Community
Live stream Classes
Workshops
Online Courses
Blog
Let's have a look at each function!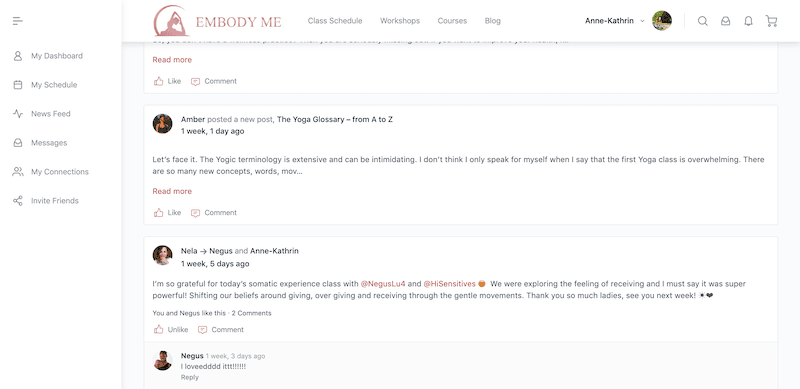 Community
First of all, Embody Me is unique because it also offers an on-platform community. Once you register, you can edit your profile, where you can add a profile pic, cover photo and information about yourself.
You can easily connect with other members by following them. This way, you will stay updated on what they are up to. I found this to be a great way to follow my favorite teachers on this platform.
Once you attend classes regularly, you will also get to know the other members and be able to connect with them. I love being able to do that. Making friends who have similar interests has never been easier!
Live stream Classes
Another Embody Me feature that I love are the live stream classes. If you are a Deluxe Member, you have unlimited access to all different types of classes.
From Yoga classes to meditations, manifestation classes and soul talking; the choices are endless! No matter what type of person you are; you'll definitely find a class you enjoy on Embody Me.
Also in terms of time slots, there are classes available on different times of the day. As the teachers on Embody Me come from all over the world, you will discover classes that fit your schedule.
The classes are held on Zoom and can easily be followed from home. Perfect for highly sensitive people who prefer their own, safe surroundings for their yoga & wellness practices.
Workshops
Besides regular live stream classes, you'll also be able to join extensive workshops on Embody Me. These workshops help you to deepen your knowledge about different wellness topics.
Whether it is nutrition, aligning with your menstrual cycle or learning more about manifestation; you'll be able to deep dive into these topics in personal workshops held by qualified instructors.
Online Courses
Another feature I love about Embody Me, is the fact that they offer online courses to their members. I am a big fan of courses and learning in my own tempo.
Once you become a member, you'll notice that there are wonderful courses available to you. For instance, you can learn more about aligning with the lunar phases. Also, there is a manifestation course available to those interested in working with the law of attraction.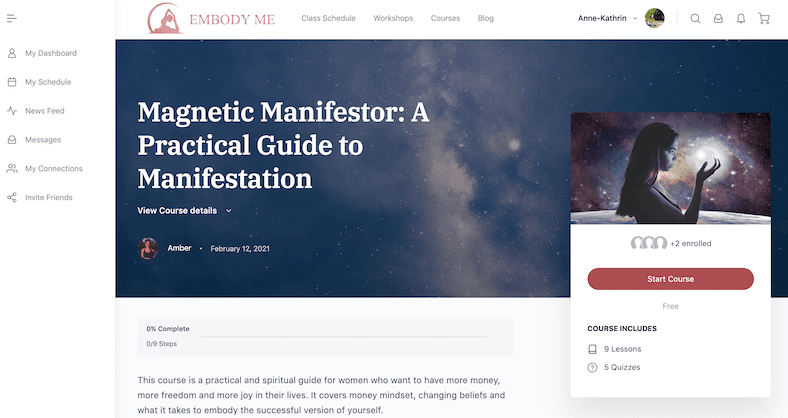 Blog
Finally, Embody Me regularly shares informative blogs about topics such as yoga, wellness and personal growth. If you want to get to know the platform before becoming a member, this is the perfect place to start!
My Experiences With Embody Me
Now that you are aware of its different features, I'd like to share my experiences with some of the classes I followed on Embody Me!
Somatic Experience For Receiving
I followed this class on a beautiful Thursday evening when the sun was shining. When I entered the class, I was not sure what to experience. I simply knew that this practice is very good for PTSD survivors, so I chose to give it a shot!
Once I entered the Zoom class, instructor Nela welcomed me and the other member participating with a warm smile and kind words. I immediately felt welcome and safe. After a short introduction, it became more clear what we'd do: A somatic experience means to move intuitively and visualizing how we feel on the inside through movement.
As this class was about experiencing what it feels like to receive, we'd visualize how it feels to give and to receive. It was a very personal and emotional class for me, as I was able to express on the outside how I felt on the inside.
At some point, I even felt like I reconnected with my inner child, which was incredibly transforming. Therefore, this practice was amazing for me to reconnect with my feminine side and the flow of my own body.
The warm and comforting character of instructor Nela created a safe space for this wonderful experience and I can highly recommend you to give it a try as well!
Stillness Meditation
After having such a great first experience with Nela, I chose to give another class of hers a try as well. This time, I chose to participate in a stillness meditation. I was somewhat stressed after a long day of work, so I hoped that this meditation would help me to feel relief.
We began the practice with a few deep breaths in and out. After doing so, Nela guided me through the meditation, helping me to ground my energy properly.
Nela's calm voice, the music and the energy helped me to begin my evening with a calm energy and let go of all the stress I carried around.
In fact, I found this meditation more relaxing than a power nap, showing how effective this practice is! If you are looking for a great meditation class, I highly recommend you to attend meditation classes on Embody Me!
Vinyasa Flow
While I loved the calm practices, I also wanted to try some more intensive classes on Embody Me as well. Therefore, I signed up for Nela's 'Vinyasa Flow' class, which was a short 30-minute yoga session.
The practice began peacefully with gentle movements and gradually became more difficult. When I began the practice, I felt great tension in my back muscles and shoulders. However, after doing this practice, I slowly felt how the tension became less. This shows how good it is to practice yoga regularly!
For beginners, this practice is a great place to start, as it is a gentle form of yoga that introduces you to the basic positions. Besides Vinyasa Flow Yoga, Embody Me also hosts classes such as Yin Yoga and Kundalini Yoga.
Face Yoga For Reducing Wrinkles
Finally, I tried face yoga. I've been dying to try this for a long time, so I was so happy to discover that Embody Me offers it on their platform! I followed the face yoga class from Prema Gaia.
With a gentle face oil, I massaged my face and the different areas of it to reduce wrinkles. It was incredibly relaxing for my face and at times super funny: you'll make a lot of funny faces and movements with your face!
After doing face yoga on Embody Me, I felt super relaxed and my face felt incredibly smooth. I highly recommend you to give it a try.
Price – Quality Check
If you are curious about the pricing of Embody Me, you are in for a pleasant surprise! Memberships start already at 19$ per month. For 49$ you have access to an unlimited amount of classes, all online courses and receive 10% off workshops. If that isn't a steal, right?
Just compare these prices to the prices of your local yoga studio, and you'll see that this is definitely a lot of value for your money. If you'd like to experience Embody Me before committing 100%, you can now test it for 7 days for just 1$! This way, you'll see whether you want to remain a member.
Some Final Remarks
If you are looking for a platform that helps you to transform your wellbeing and embody your best self, I highly recommend you to give Embody Me a try. The instructors are friendly, the membership area is a nice way to connect with others and the offer is outstanding. I am a big fan!
You May Also Enjoy Reading These Articles