In this article, guest writer Tigs Broomfield shares practical tips on how you can plan your career and secure a grad job as a highly sensitive person or empath!
In order to be able to continue delivering valuable personal growth content for highly sensitive people and empaths, we work with affiliate links in this article. This means that we recommend products that we love and receive a small commission from the seller – at no additional cost to you – when you choose to purchase a product through our link.
Estimated reading time: 6 minutes
Deciding on what you are about to devote your life to can be challenging for everyone. Especially when you are a highly sensitive person or empath, you have to choose your career path wisely.
At the time I looked at graduate schemes, I found it very difficult to differentiate grad jobs and to decipher what kind of career I wanted.
So I have summarized below how I managed to secure a graduate scheme, how to identify companies of interest to you and some tips and tricks too.
Identifying Grad Job Companies
Now I realize a lot of grad jobs are similar in the sense you need to analyse information, interpret and present back, whether you are a Doctor or a Business Manager. So I decided the best way to minimise the plethora of jobs would be to consider the following when applying for graduate schemes:
Interests
Salary
Location/travel
Sector
Clients
Development
1. Interests
This goes without saying, understanding what is important to you and what you enjoy will help you succeed in your given career. Think about what motivates, drives you and what you want to get out of life? Is it important to you to save lives? To become a Partner? To start your own business?
For instance, if your long-term goal was to set up your own business, a career of working long hours and receiving a high pay cheque could actually suit you for the short term.
If you'd like to deep dive into your life purpose, you may enjoy reading 'The Career Stories Method: 11 Steps to Find Your Ideal Career—and Discover Your Awesome Self in the Process'
2. Salary
Firstly work out what kind of salary you would like. Try to outline what makes you happy. Identify whether you are willing to compensate on salary if you are passionate about the grad job.
Review what the salaries can rise to in your given career, as at the start of your career your salary could be low and drastically climb after a few years in the field. Lastly do not be swayed by short term perks, for instance graduate schemes may usher you in with a signing on bonus.
3. Location/travel
Where do you want to be based? Do you mind to travel a lot? Since we are going through a global pandemic this will likely change the way most of companies approach travel nationally and internationally.
In addition, highly sensitive people and empaths have to be aware of their energy. Hence, you should estimate whether you will manage long days energetically when determining your requirements regarding location and travel.
For instance, I work as a Management Consultant. The expectation was that you would work on client site 4 days a week and likely have to stay in a hotel away from home. Now however, at least for my team, we only travel to see the client at key milestones on the project (eg. workshops) as opposed to the majority of the time. With the option to work from home or the office.
You should consider whether working in an office every day is something you would enjoy or if you want a change in scenery. For instance for me, I wanted to work abroad and in different environments. Hence, I specifically looked for this type of grad job when applying.
4. Sector
Potentially a difficult one to think about for the start of your career. But you should understand the different sectors you want to work in and the type of work characteristics or environment.
For instance, the finance sector is known for longer hours but arguably more glamorous events. On the other hand, the public sector usually involves better hours and less pay. So, an understanding of this may sway your decisions when applying.
Especially as a highly sensitive person or empath, you have to carefully consider the sector you will work in, as it will greatly impact your overall well-being.
5. Clients
Presenting work internally is arguably easier and typically less pressure than having to present to clients of your company. Having clients could be enjoyable as you are able to meet with new people. Also, you can establish new relationships instead of working solely with the same team.
Hence, consider whether you enjoy meeting new people regularly or if you prefer a 'safe space' with familiar people. Especially highly sensitive introverts may prefer the latter.
6. Development
You may want to start on a graduate scheme which gives you the opportunity to take a qualification which is paid for. For example a graduate scheme in accounting will usually offer an accounting qualification and once qualified your salary will rise significantly.
I noticed that most of the big four, offered the opportunity to get this qualification. However, in the job title Management Consulting, I decided to apply to the ones which did not actually have this option as I didn't want to spend the first few years doing more exams!
Applying To Grad Job Schemes
After performing these steps, you have narrowed down on several companies and selected your top choices. I'd try cut down to 15 max for graduate schemes as the process of applying to graduate schemes is long and some include psychometric tests and more than one interview. So I'd reduce the amount of graduate schemes.
Then you should look at general entry level jobs (which are not grad schemes) as the process should be shorter. This should balance out your chances of securing a job soon after finishing university.
Securing A Grad Job Scheme
You may feel lost in the countless stalls at careers fairs and the laissez faire atmosphere. But it's important to note even though the recruiters working at the stalls may say there are loads of different intake dates and deadlines close later in the year, realistically jobs get filled before the deadlines close.
I learnt this the hard way from going to careers fair in late November. I found myself umm-ing and rr-ing on which companies I was willing to undergo the lengthy process of applying for. But by the time I condensed my list down I noticed there were quite a few applications already closed.
I spoke to a recruiter who said I should look to apply as soon as the job application opens. Moreover, I did this the following year, in my year out before traveling. I noted all the companies I wanted to apply for. When the applications became available online I applied straight away.
One being the 1st September, I completed the assessments as soon as I received them. Also, I picked the earliest interview date. My final Interview was in November and even then I was told that I was the last applicant picked for that intake!
Hopefully this can be a less daunting experience for anyone wanting to go through the same process now! If you would like to discover any more similar posts from this writer, visit behindthegram.net.
Save These Grad Job Tips For Later
If you'd like to revisit this article at a later moment, we created this image for you to save on Pinterest! Click on the 'pin it'-button to save it directly to your Pinterest-account: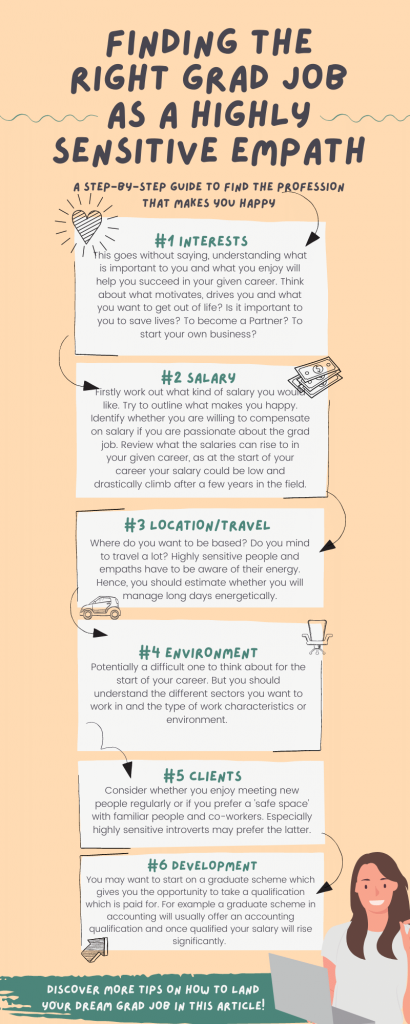 You May Also Enjoy Reading These Articles